The Triman logo was introduced in 2015 by Decree No. 2014-1577. The logo informs end consumers that the product or packaging can be recycled and its components must be disposed separately for this purpose Its purpose is to inform consumers and help them choose the right disposal method: Recyclables or waste paper bins instead of residual waste. As a manufacturer or distributor, you must affix the logo and the associated sorting instructions, known as the "info tri," to both the product and the packaging.
Which products and market players does it apply to?
The Triman logo generally applies only to products that are subject to registration in France. These include clothing and footwear, printed paper products, electrical appliances, packaging, batteries and others. The labeling requirement resulting from the aforementioned decree only applies to goods and their packaging that are manufactured for use in private households. Therefore, you may not use it on goods that are explicitly intended for professional use.
Another requirement for affixing the Triman logo and sorting instructions is recyclability. You may not affix the logo to products that cannot be recycled or are not intended or suitable for waste sorting. Recyclability is defined by the French environmental law in Art. L541-1-1. Therefore, you are required to label recyclable packaging that is disposed of by private households as final consumers and that can be assigned to a waste category in the course of separate waste collection (yellow garbage can, paper or glass). This does not include packaging that is smaller than ten square centimeters and does not contain instructions for use. However, if you circulate packaging of this size, you must provide consumers with electronic access to separation instructions (website).
In addition to this kind of packaging, the law also affects electrical and electronic equipment, batteries, lamps, and photovoltaic modules, provided they are recyclable. This obligation affects all distributors, including manufacturers, importers, distributors, and online retailers. The distribution channel you use, and the location of your company are irrelevant. Legally compliant labeling is also mandatory for products that must already be labeled in other ways, such as the crossed-out trash can found on electrical appliances and rechargeable batteries.
Structure of the Triman logo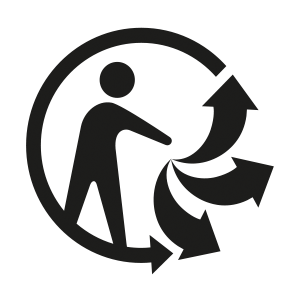 The Triman logo consists of a pictogram of a person with an outstretched arm, from whose hand three thick arrows point in different directions. The person represents the environmentally conscious consumer who separately disposes the product or packaging. It is surrounded by a thin arrow pointing from the uppermost to the lowermost of the three thick arrows, indicating that resources are being reused and converted to another form or use. It thus represents recycling.
Next to the logo is the "info tri", i.e. the sorting instructions in the form of a bar, which is highlighted in yellow (yellow garbage can) or green (glass) depending on the method of disposal. The individual packaging components that can be separated must be listed in an area not highlighted in color by pictograms and/or text and connected by a "+" symbol. The info-tri bar must also contain a pictogram for the correct collection container in which the packaging is to be disposed of. Below the bar, you can provide additional information in text form, for example, by encouraging consumers to separate the packaging components before disposal. However, this additional information is voluntary.

Sorting instructions and sorting information
You must apply the Triman logo and "info tri" directly to the product or packaging as of January 1, 2022. When doing so, you must adhere to a minimum size of six millimeters and follow the specified black and white or colored appearance. If this is not possible, you must also print the logo on instructions or documents that you deliver together with the product.
As of January 1, 2015, you must display the Triman logo on recyclable products and packaging. Since January 1, 2022, this obligation also applies to electrical appliances as well as batteries and their outer packaging. However, there is still a transition period until September 9, 2022, during which you are allowed to display the logo and sorting instructions on the website of your online store where the product is presented. In addition, until March 9, 2023, you may continue to sell packaging that was produced before September 9, 2022, and that is not yet labeled in accordance with the law. However, as of March 9, 2023, all transition periods will expire, and your products must comply with the labeling requirements.
only …
Fines and sanctions: What is the threat of non-compliance?
If you do not follow the legal requirements, this may have legal consequences for you, even if the violation occurred out of not knowing about the obligations. Art. L171-8 and Art. L173-1 of the Environmental Code provide for warnings by authorities if you, as a distributor, violate your obligations. Consequently, fines of up to 100,000 EUR or imprisonment of up to two years can be imposed.
We support you with your obligations
Do you need advice or support in fulfilling your obligations under producer responsibility? We take care of your international environmental compliance - in France, too, of course.
Triman, info-tri & e-commerce: Why the logo is also relevant for German distributors
As you have already noticed by naming the industry players, the labeling obligation is also relevant for German online retailers if you supply customers in France. The problem for you as an online retailer is that you are often not the manufacturer of the goods yourself and therefore cannot influence the product and packaging design directly. You therefore must use stickers for example. In addition to correct labeling, you must also note that you must register packaging with the French equivalent of the German authority before you put it into circulation.
Things get even more complicated if you trade internationally and export your goods not only to France, but to other French-speaking countries. Since different labeling requirements and waste laws apply there than in France, you must take these into account and indicate the scope of the sorting instructions accordingly. In addition, laws are constantly being changed and adapted, which may result in new obligations for you that you must not overlook. With CERTIFY, you have a strong partner at your side who provides you with advice and ensures that your products meet all obligations – regardless of whether you sell directly in France or from Germany or another country. Simply contact us and let us provide you with an individual offer!